The Surrey Food Festival
25th - 26th April 2020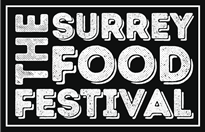 Dee Chanelle and the In-Laws
Dee Chanelle has been a solo chanteuse for many years until she met guitarist/bassist "Mama Clare" back in 2014 forming an acoustic guitar/vocal duo performing at community charity gigs and festivals.
Needless to say their musical bonding flourished and the versatile genres of music took them to casinos and restaurants, residency at the institutional Molly Moggs Theatre Bar in Soho and The Diamond Masquerade Ball at the Clapham Grand to name a few.
With a quest to grow and expand the sound, Dee and Clare searched high and low for keyboardist/DJ "Baby J" and millennial guitarist "Billy the Kid" along with "Papa Rogerio" on drums. At times the band has been known to feature additional guest family members in their set.
Dee Chanelle and the In-Laws now actively perform an acoustic/live cocktail set of eclectic covers and originals playing at Luna Live Lounge, Bar FM and the SPARKLE main stage during Manchester Pride.
Dee Chanelle is currently writing and recording her debut album.