The Surrey Food Festival
27th - 28th July 2024
Old Deer Park, Richmond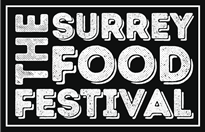 Fabulously Fizzy
Fabulously Fizzy will be serving up bountiful bubbles and plenty of Pimms.
Fabulously Fizzy Prosecco
The Fabulously Fizzy Prosecco Van is the bubbly little tuk-tuk that's been popping up at events across London, Middlesex and Surrey, adding the sparkle everywhere it goes with its fizzy feast!
Decked out with a double bar, and a flash-cooling system, fizz is served straight from the tap, delightfully chilled! Premium quality fizz, made using the Glera (Prosecco) grape – is fruity, smooth and aromatic. Bubbles are perfect enjoyed straight up or 'pimped' using fruit gin and vodka liqueurs. This year's fizz menu includes everyone's favourite Rhubarb & Ginger as well as Raspberry, Pomegranate & Rose and for those with a sweet tooth, Toffee.

But if it's Pimms you're after, then Fabulously Fizzy will be serving up the quintessential British Summer drink, garnished with fresh strawberries, cucumber and mint!
The Surrey Food Festival Sponsors & Partners