The Surrey Food Festival
25th - 26th April 2020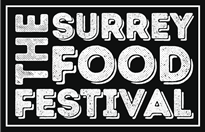 The Surrey Food Festival
The festival of all festivals, more food and drink than a body can handle. Come and experience our sensation overload at The Surrey Food Festival. Bring your appetite !
The enduring food festival
This is where our 'The Local Food Festival' story started back in 2016. The gates will be opened at 10am for a thoroughly extravagant foodie sensual assault. Come early and stay late, this festival only comes around once a year and it's a fan favourite.
Local businesses will be showcasing an exquisite range of food & drink, traders will be demonstrating and selling their products in the Marketplace and there's even a Kids Zone to keep your little ones entertained whilst you indulge.
Now a crowd favourite the demonstration marquee will be back again this year and will be packed to the gunwales with live demos, tastings and talks taking place throughout both days of the festival. Entrance to the demo tent is included in the price of admission, all we ask is for a small donation, which will benefit our charity.
Fantastic food & drink stalls
Something for everyone, from vegetarian to voracious carnivore. Prepare to be impressed! Immerse yourself in indulgence at The Surrey Food Festival.